Leadership
Catalina Sol
Executive Director
Ms. Sol has more than 25 years of public health and direct service provision with underserved communities and Latino immigrants. Prior to her selection as Executive Director in 2018, Ms. Sol served on La Clínica's leadership team in several roles, including HIV Department Director, where she led HIV Prevention and Care programs, and Chief Programs Officer, where she was responsible for the overall strategic direction and integration of programs. She is a current fellow of the Robert Wood Johnson Interdisciplinary Research Leaders program and sits on the Board of Directors of the DC Primary Care Association. Ms. Sol received a Master in Public Health from Johns Hopkins University and a Bachelor's from Georgetown University.
Suyanna Linhales Barker
Chief of Programs and Community Services
Prior to serving as La Clínica's Chief Program Officer, Dr. Linhales Barker served as La Clínica's Senior Director of Health Equity and Community Action. Dr. Linhales Barker has always believed that healthcare is a fundamental human right and has focused her career on ending health disparities related to poverty and discrimination. As the Chief of Programs and Community Services, she is responsible for overseeing the design, implementation and evaluation of programs that are culturally and linguistically grounded. In 2015, Dr. Linhales Barker was awarded the Distinguished Community Advocate Award by the District of Columbia Primary Care Association. She holds a Doctorate in Public Health from the Oswaldo Cruz Foundation and a Master's Degree in Social Psychology from the State University in Rio de Janeiro.
Joanie Clement
Chief Financial Officer
Ms. Clement brings over 20 years of experience working in finance and operations with non-profit health providers and stakeholders in Washington, D.C. and 23 states. Ms. Clement has a talent for managing revenue cycle, improving practice operations, and driving projects to completion. In D.C., she is considered a leader who is skilled at strategic planning, managing resources, and facilitating cooperative problem-solving. She has a Bachelor's degree from Louisiana State University.
Ricardo Fernandez
Chief Medical Officer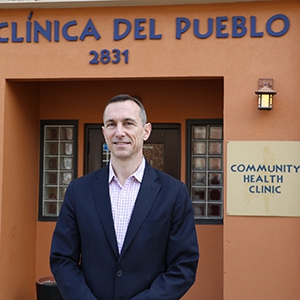 Dr. Fernandez has spent the majority of his career as a physician working with underserved communities in Washington, D.C. Before accepting the position of Chief Medical Officer, he served as a volunteer physician with La Clínica for more than ten years and provided organizational leadership as a board member. Dr. Fernandez is committed to providing high-quality medical care with a focus on those patients and communities most in need. He received his medical degree from the University of Wisconsin, and completed a residency in internal medicine at the George Washington University Medical Center. Dr. Fernandez currently holds faculty appointments at the George Washington University School of Medicine and Health Sciences, and the Uniformed Services University of the Health Sciences.
Rachel Meyn Ugarte
Chief Development Officer
Ms. Ugarte has spent the past 15 years working in development and communications at non-profits serving Latino communities in Guatemala, California, and Washington D.C. As La Clínica's Chief Development Officer, Ms. Ugarte has substantially grown La Clínica's individual and corporate revenue, has led a highly successful grants and contracts unit, and is responsible for leading a re-branding of La Clínica that has resulted in higher visibility. Ms. Ugarte earned a Master's in International Development Management from American University, and a Bachelor's from University California at Santa Cruz in Community Studies and Film & Digital Media.
Jessica Clough
Director of Patient Services
Ms. Clough oversees the Patient Services Department; she ensures that our clinical operations and our teams of Practice Care Coordinators, Intake & Benefits Specialists, Patient Access Representatives, and licensed providers run smoothly and efficiently by supporting them in trainings, professional growth, and development. She believes in cultivating a positive work environment and teamwork by building trust, confidence, committed relationships with diverse populations in a culturally competent manner, and protecting/promoting diversity, inclusion, and is an advocate for reproductive rights. Jessica joined La Clínica del Pueblo in March 2020 as our Practice Manager, just as the COVID-19 pandemic began – becoming the Director of Patient Services two years later in 2022. Ms. Clough has over 15 years of experience in healthcare; her educational background includes a Certified Medical Assistant and holds a degree in Psychology from Florida International University. Her trajectory in the medical field facilitates her mentoring, coaching, and understanding of our staff and our patients' challenges; strives to provide excellent patient care and customer service. Her background in the field covers working as a Patient Care Coordinator, a Recovery Coach for teenagers with eating disorders, and as a Health Center Manager II for a non-profit organization. Jessica is proud to be Latina and to represent La Clínica del Pueblo in the community.
Manuel Diaz-Ramirez
Community Health Action Department Director
Mr. Diaz-Ramirez oversees the community health programs and activities developed by La Clínica del Pueblo to ensure that efficient and quality community-focused services are provided. As the Community Health Action Department Director, he assesses health needs within the community as a whole, and develops strategies grounded in public health and community mobilization to address these needs at the individual, family, group, community, or structural level as appropriate. Prior to 2018, he served as La Clínica's LGBTQ Health Program Manager. Mr. Diaz-Ramirez holds a Bachelor's Degree in Psychology and is licensed in Psychology from the Universidad Ricardo Palma in Lima, Peru.
Heathyr Langdon
Finance Director
Ms. Langdon brings over 20 years experience in financial and operational management roles in a variety of industries, most recently in locally based non-profit healthcare. Prior to joining LCDP, she worked for both local and internationally based organizations developing complex budgets, initiating/monitoring process improvements, and building forecasting models. Her strengths include budget planning leadership, strategic and financial planning, financial management, and financial and operational reporting. Ms. Langdon has a Master of Business Administration in Finance from Loyola University Maryland and Bachelor of Science in Management from Towson University.
Lisette Sanchez
Senior Director of Human Resources
Ms. Sanchez has over twenty years of solid human resources experience. Eleven of those years were in the non-profit sector focusing on Community Mental Health Centers, Child Welfare Agencies, and Federally Qualified Health Center. Ms. Sanchez serves as an integral part of the leadership team and head of human resources. Ms. Sanchez excels at providing a productive workforce culture that honors and represents the mission of the agency. Her strengths include employee relations, policy writing, and compliance. Ms. Sanchez has a Master's in Business Administration from the George Washington University and a Bachelor's degree from the University of Miami.
Rodrigo Stein
Director of Health Equity and Strategic Community Partnerships
Mr. Stein joined La Clinica in 2016 as its Health Promotion Manager. Utilizing a host of environmental and culturally appropriate strategies, he designed and implemented programs and initiatives aimed at reducing the incidence of chronic diseases for the Latino immigrant community. Before La Clinica, he was selected as a Global Health Corps Fellow with The Grassroot Project, where he advanced health equity in the District of Columbia by using sports to reimagine health education in middle schools. He also supported youth development in his roles at Manchester United Soccer Schools and the Manchester United Foundation in the U.K. In his current role, Mr. Stein will be establishing our Health Equity and Strategic Community Partnerships Department with a focus on leading programs to address language barriers, engage community participation for program development and advocacy, and promote meaningful collaboration across sectors by strengthening local partnerships. Mr. Stein earned his Masters of Science in Sociology of Sport from Loughborough University, U.K., and a Bachelors of Arts in History and Political Science from Concordia University in Montreal, Canada.
Divya Moolchandani
Compliance Officer
Ms. Moolchandani is an experienced compliance and risk management professional and leads La Clinica's comprehensive program to conduct operations and activities ethically, with the highest level of integrity, and in compliance with legal and regulatory requirements. Throughout her career, she has led projects that provide policy-based insights, programmatic guidance, and the internal audit function for addressing enterprise-wide risk, with specialized focus in revenue cycle, quality-focused reimbursement models, and corporate compliance infrastructure. Ms. Moolchandani holds a Graduate Certificate in Healthcare Corporate Compliance and Master of Health Administration from George Washington University, a Bachelor of Art's degree from Washington University in St. Louis, and is Certified in Healthcare Compliance. She is also an adjunct professor at George Washington University.